Philippines Facing Garbage Crisis
According to OneNews, 16.6 Million Metric Tons Of Waste This Year Can Fill 99 Philippine Arenas 
Based on 2018 data, the Philippines is the third-largest generator of solid waste per year among Southeast Asian countries, with only Thailand and Indonesia producing more, Gatchalian noted.
Due to the poor implementation of a 20-year-old law and lack of action from households and communities, the country is facing a serious garbage crisis that threatens to cause irreparable damage to ecosystems and harm to the health of Filipinos, Sen. Sherwin Gatchalian has warned.
The senator said the garbage crisis used to be felt only by local government units (LGUs), but now it has "grown into a national crisis that requires immediate concerted action from government and civil society."
"It is clear that the implications of the garbage crisis are simply too grave for us to sit back and do nothing. We must take action now to end the garbage crisis before it degrades the environment and poisons the bodies of future generations of Filipinos," Gatchalian said in his privilege speech on Tuesday, Sept. 1 2020 continue reading
Meet EarthCUBE Machine - Solution to our Garbage Problem!
Organic Matter Low Temperature Decomposition System​
Decomposition of organic matter using the Earth's natural magnetic force-environment friendly technology. 
The "EARTH CUBE" is a bass thermal decomposition system developed 30 years ago.
With regard to medical waste problems and waste disposal problems that are becoming increasingly serious, we acquired a domestic patent, thinking that it could be a solution that secures safety and security.
From now on, we think it would be fortunate if we could cooperate with you to reduce the cost of waste disposal, especially with medical waste from hospitals nationwide.
Factories:
Shizuoka-shi, Shizuoka Prefecture/Shikoku Chuo-shi
Ehime Prefecture/ Buzen-shi
Fukuoka Prefecture
Installation: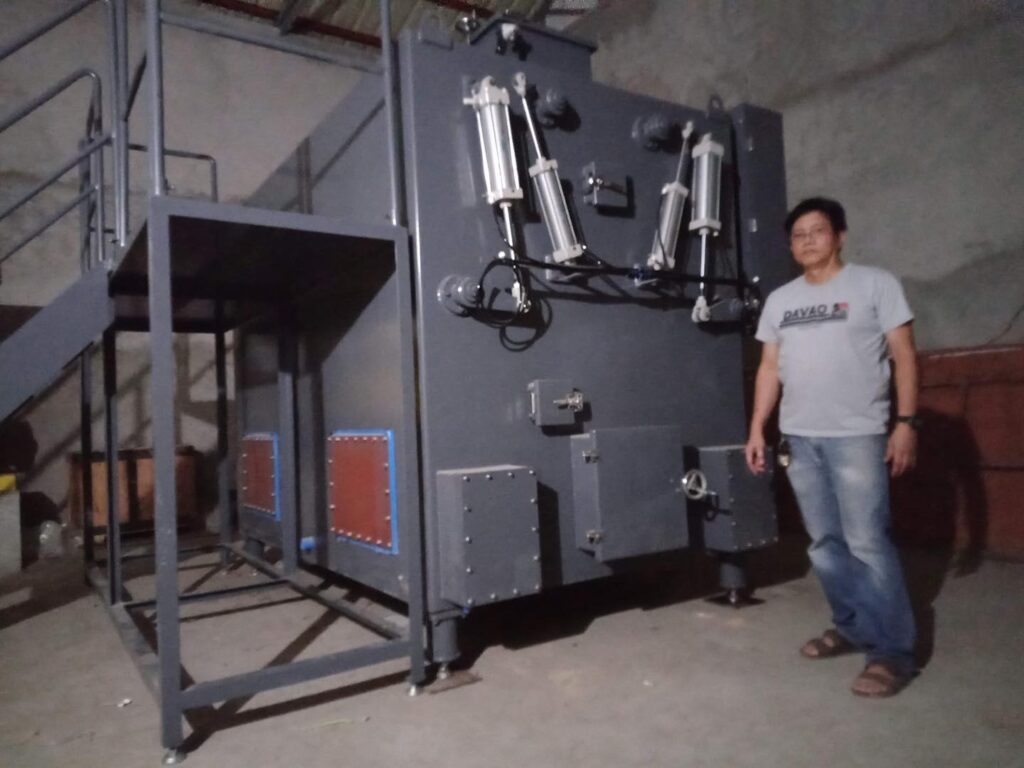 Significant reductions in daily operating costs and maintenance costs.
Most organic matter can be processed without segregation.
It can be use at undeveloped infrastructure areas such as remote islands and mountain areas
Vinegar and ceramic ash as by-products.
No fossil fuel required for operation. (Operating without fuel)
Organic matter treatment can be decomposed to 1/300 to 1/400 and recycled as fertilizer
Superior gas handling capacity: No black smoke (pollution) when using petrochemical products
Air pollution control: Concentrations of dioxins and nitrogen oxides in exhaust gas are below environmental standards
Installation costs are also significantly reduced compared to comparable scale incinerators.
Solve the problems stated below!
1. Disposal of industrial waste from medical institutions. (Other than metal: diapers, blood collection tubes, drip packs, syringes, gauze etc.)
2. Disposal of foreign debris and shoreline debris
(Rubber, plastics)
3. Processing of nets used in fishery
(Fishing net, raw waste, Styrofoam, etc)
4. Heating using disposal and residual such as from chicken manure
(Industrial feces can be incinerated after drying)
5. Waste tire treatment (It must be crushed and take out the metal fittings inside)
6. Disposal of waste from various companies. (Sensitive documents, floppies, office work materials)
7. Disposal of waste collected by the municipality
8. Treatment of all other organic matter. (Disposal of diapers is processed into ceramic in 24 hours)